This dumbbell workout focuses on exercises that can be performed safely, without putting strain on the joints. I see so many websites and videos for weight training with dumbbells giving examples of exercises that don't cover any of the essential safety concerns that should be covered when working with weights. In this dumbbell workout routine I have assured that it's safe and doesn't put undue stress on the joints. Just like any strength training routine, to get the most out of it we really want to get to the moment of complete muscle fatigue, the moment when the muscles can't push any further.
As I've mentioned before on the website here, that moment of full muscle fatigue isn't an easy place to get to, and the majority of people aren't going to get to that important place to promote the most muscle growth, in fact 80% of Americans won't even exercise unless they have an appointment on a schedule with a fitness trainer. That is exactly why I urge people to be the safest they can and work with a specialized safety fitness trainer at The Perfect Workout. The program doesn't always fit the budget so for those I'm writing detailed books on home exercise, weight training with dumbbells, and gym safety to assure you can stay safe on your own.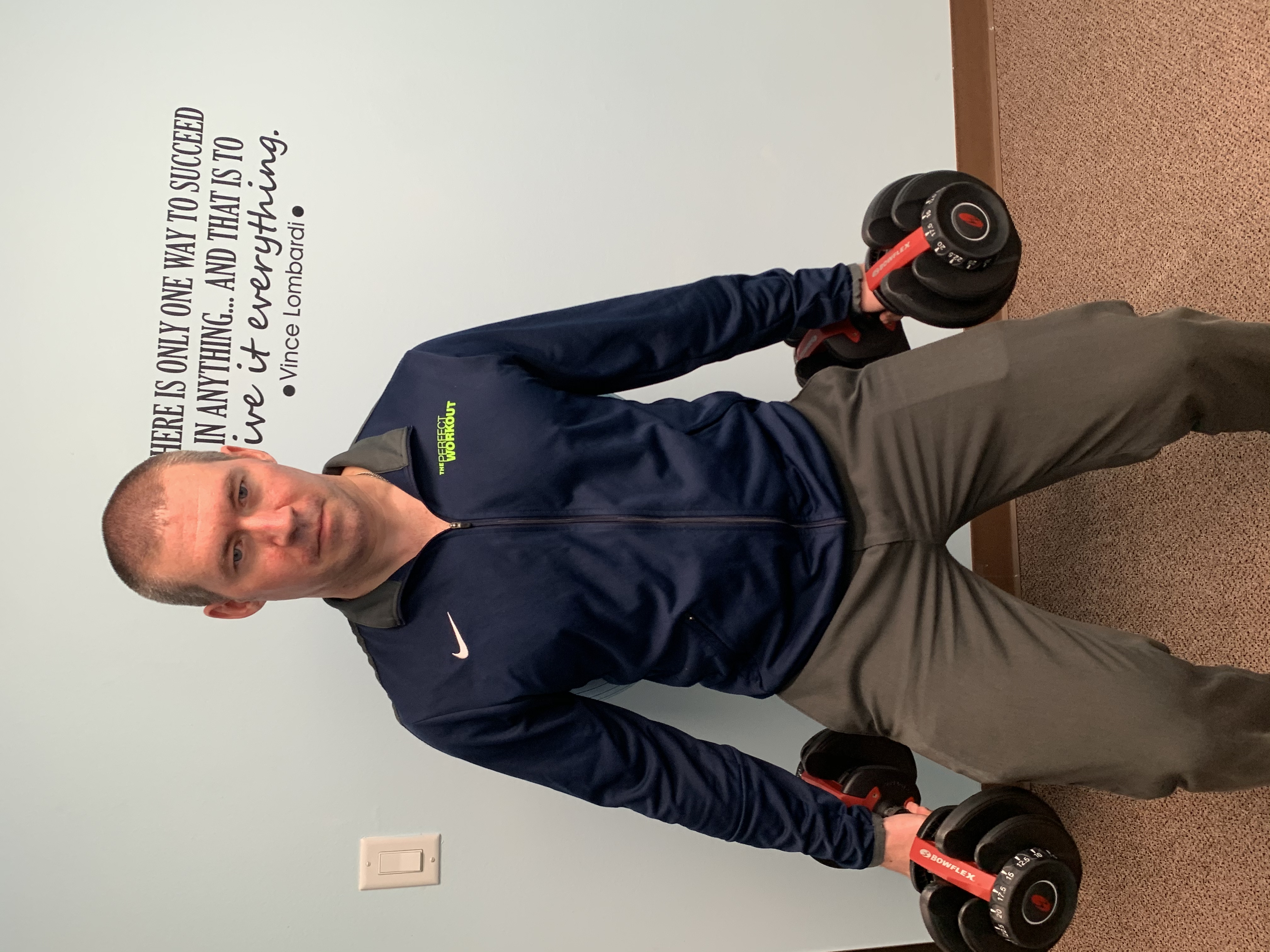 The first exercise in our dumbbell workout routine is the ball squat. We're going to be working to strengthen multiple muscles in the legs, the buttocks, and the lower back. Place any kind of ball between the wall and your back, leaning against it and allowing you to move up and down almost to a sitting position, always keeping the knees slightly bent (never straightening the knees allows to get into a deeper muscle fatigue). You'll be able to feel that you get a much better workout the slower you perform the exercise, ten seconds down and ten seconds back up is an ideal pace. It's best to put a stool under you in case you have to lower yourself on it, it will catch you instead of falling onto the floor. As with all weight training with dumbbells, you'll always want to also keep a slight bend in your elbow to be safe on your joints.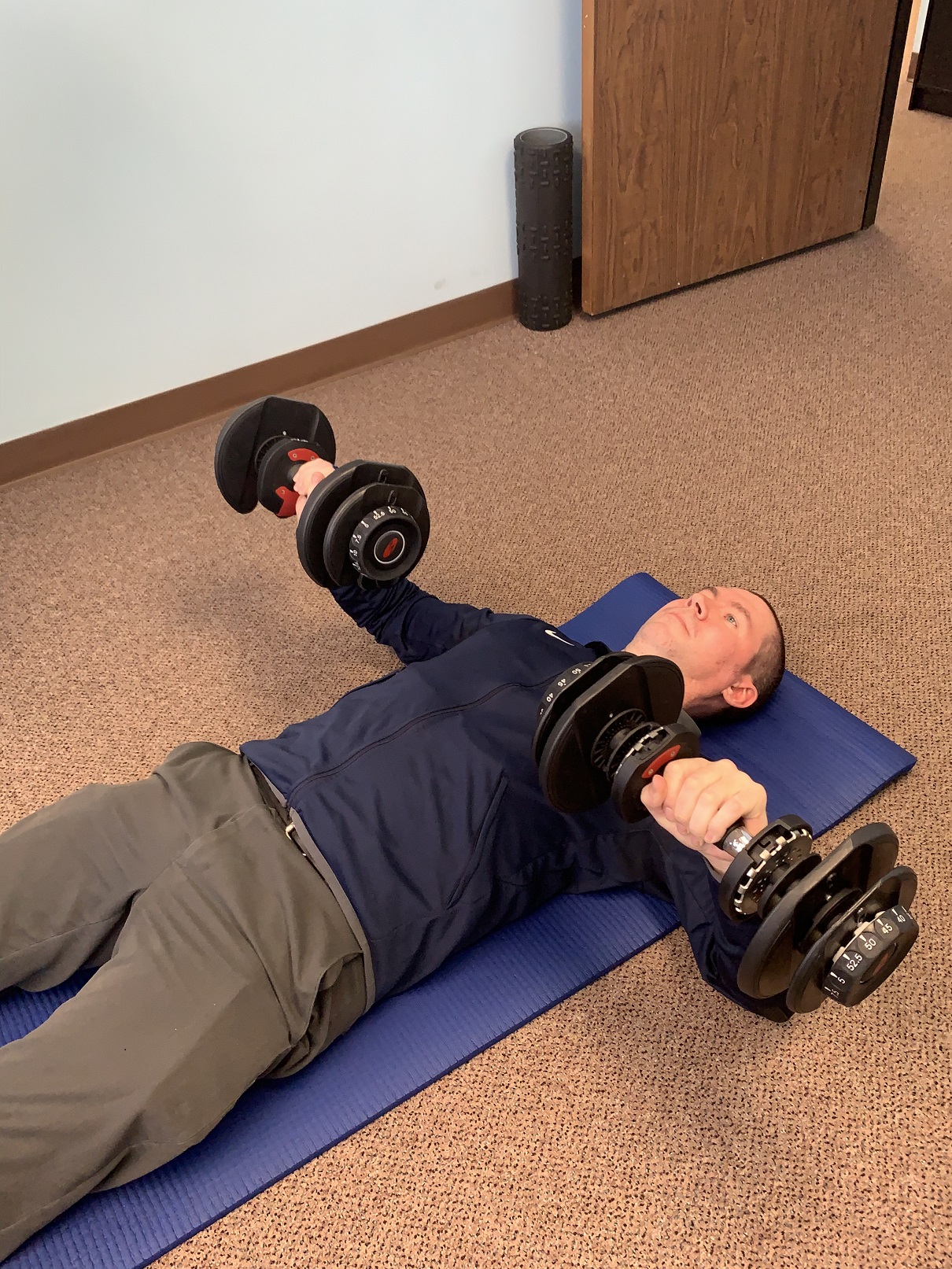 This exercise in our dumbbell workout works the same muscles as a push-up does, the chest, triceps, and front shoulder muscles. My advice is to begin with this exercise if you can't do a push-up and you'll be able to work your way up to it. So, as you can see, I'm on my back and letting my elbows come directly outward and then moving the weights upward. For maximum safety and effectiveness you'll want to move at a slow pace of ten seconds to push upwards and the same pace on the way down. The trick for the highest intensity is to never let the elbows rest on the ground and to never fully straighten your elbows. We want to feel the pressure in the muscles through the entire exercise.
The pullover in the dumbbell workout really focuses mostly on the back muscles with the triceps and chest muscles as secondary muscles. I'm laying on a bench here, but you can use a chair to lay on, right under the mid back.
As with any weight training with dumbbells we want to move at that same ten second pace, letting your hands lower behind your head then ten seconds pushing upwards above your head.